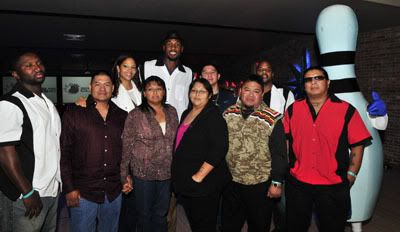 The annual Zo's "King Pin" Classic charity bowling event heald in Miami last week netted $80,000 for the the Honey Shine Mentoring Program, a program of Alonzo Mourning Charities, which works to empower young girls to shine as women.
This year, the Seminole Tribe of Indians team (pictured above) took over "King Pin" status and led the other teams that supported the event.
The event featured a number of sports personalities, including the Miami Heat's Dwyane Wade, Udonis Haslem, Shawn Marion, Dorell Wright and Joel Anthony, as well as Chad Jackson of the Denver Broncos, Donte Stallworth and Braylon Edwards of the Cleveland Browns, former NBA All-Star Tim Hardaway, former NFL player O.J. McDuffie, former MLB player Charles Johnson and NFL player Duane Starks (Alonzo Mourning Charities).
Photo credit: Alonzo Mourning Charities