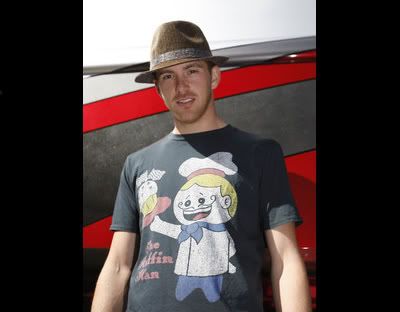 NASCAR Sprint Cup Series driver Scott Speed, who has been diagnosed with the digestive condition ulcerative colitis, is raising money for the Chron's & Colitis Foundation of America (CCFA) by selling "Muffin Man" t-shirts, which he designed in partnership with Arizona-based Muze Clothing. The shirt sells for $40, with 100% of the proceeds from each sale being earmarked to benefit CCFA (Muze Clothing).
In St. Louis: St. Louis Rams DT La'Roi Glover and his La'Roi Glover Foundation hosted 350 Missouri kids at the November 2nd Rams-Arizona Cardinals game. Following the game, the kids enjoyed a meet and greet with Glover. Kids were invited from the Herbert Hoover Boys and Girls Club and Big Brothers/Big Sisters of Eastern Missouri (Giving Back Fund).
In New York: New York Giants LB Gerris Wilkinson, New York Jets S Abram Elam and retired NFL player Jack Brewer joined Genworth in New York last month to help revitalize the local Jackie Robinson Park. Wilkinson joined the volunteers in cleaning up trash and debris as well as planting new tulip bulbs in the garden area. Elam and Brewer shared their experiences with over 50 youth of the after-school program and flag football team (Athletes for Hope).
In Cleveland: Olympic Gold Medalist Kerri Walsh donated two signed volleyballs to the MaryEllen Locher Foundation for their Volley for a Cure Fundraiser in conjunction with Homecoming at Lee University on November 6-7. The volleyballs were auctioned off during the "Pink Party" on Thursday November 6. On Friday, during Lee University's Homecoming Volleyball game, all fans and teams are encouraged to wear pink in support of the cause (Athletes for Hope).
Photo credit: Muze Clothing