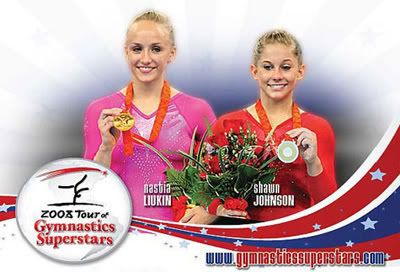 Following their success in Beijing, the 2008 U.S. Gymnastics team, along with teammates from previous years embarked on a whirlwind three month, 37-city, Gymnastics Superstars Tour. Throughout October and November, Athletes for Hope (AFH) helped them to incorporate various charity experiences into their already busy schedule.
In October, Athletes for Hope worked with charity partner Make-A-Wish Foundation to grant a wish to meet Shawn Johnson to a special nine-year-old girl with Hodgkin's Disease. She not only met her hero, but many of the other gymnasts as well, including AFH member Nastia Liukin, and she was able to perform on stage for the entire audience.
In November, the Tour stopped in Milwaukee and St. Louis, where AFH was again able to coordinate with Make-A-Wish to arrange for "Wish Enhancements." While in Cleveland and East Lansing, the athletes headed over to the local Children's Hospitals to visit with the kids in the playrooms and at bedside. AFH members Nastia Liukin and Paul Hamm participated in all events along with many of their teammates (Athletes for Hope).