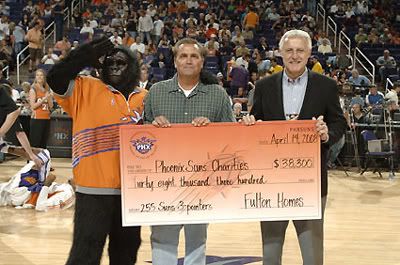 The Phoenix Suns and Fulton Homes are bringing back the "Fulton Homes Proud to Own the Three-Point Zone" program a fourth year. During games broadcast on Fox Sports Arizona, Fulton Homes will donate $150 to Suns Charities for each three-point basket made. Last year, the Suns earned $37,950 for charity by ringing up 253 three-pointers.
Contributions from previous programs have gone to support such charities as United Cerebral Palsy and the Central Arizona Mountain Rescue Association (Phoenix Suns).
Spurs: The San Antonio Spurs Foundation hosted the second annual Hope & Possibility 5K Run/Walk on October 25. The Hope & Possibility 5K was first brought to San Antonio by Spurs Basketball President & Head Coach Gregg Popovich after he saw the Hope & Possibility 5K in New York and recognized the importance of having a similar event for all levels and ages in San Antonio.
The Hope & Possibility 5K is an event in response to Trisha Meili's story. Meili revealed her story of survival and recovery in her 2003 best-selling memoir I AM THE CENTRAL PARK JOGGER: A Story of Hope and Possibility. Meili was attacked in Central Park in 1989, and was not expected to survive. In 2003, the Achilles Track Club produced its first Hope & Possibility race in Central Park to honor Meili and her story. In 2007, the Spurs Foundation teamed up with the national Achilles chapter to host the inaugural Hope & Possibility run/walk in the Alamo City (San Antonio Spurs).
Hornets: Hornets.com's Jim Eichenhofer reported that the New Orleans Hornets dedicated two more Hoops for Homes in October.
Hornets Owner George Shinn: "We are committed to New Orleans and love this city. We believe that when you can lift up others, you lift up yourself" (Hornets.com, 10/29).
Jazz: The Utah Jazz and its radio affiliate, KFAN-AM, collected approximately 3,300 pounds of food for the Utah Food Bank last month at Karl Malone Toyota in Draper, Utah. For each bag of non-perishable food fans donated, they received one complimentary Jazz ticket for the October 23rd game versus the Portland Trailblazers. Nearly 1,000 tickets were distributed. Each fan had an opportunity to donate up to six bags of food and receive six Jazz game tickets.
Jazz President Randy Rigby said, ""We are very pleased with the success of today's event. Fans were extremely supportive of the food drive and we are grateful for the opportunity to help put food on the table for those in need" (Utah Jazz).
Photo credit: Phoenix Suns