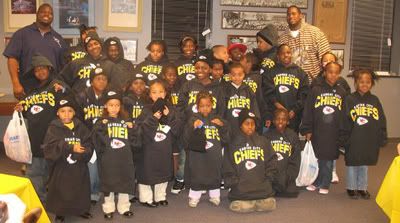 With the NFL, NBA and NHL in full swing, several pro teams hit the pause button to give back this Thanksgiving. Progress Avenue presents a round-up of what went on this holiday:
Anaheim Ducks: The Anaheim Ducks partnered with local nonprofit, We Give Thanks Inc. and La Casa Garcia restaurant to host its annual complimentary We Give Thanks Thanksgiving dinner for local residents that might go without. Over the course of the day, more than 12,000 local residents enjoy a meal of traditional Thanksgiving fixings (Anaheim Ducks).
Arizona Cardinals: The Arizona Cardinals took part in their annual "Help Feed The Hungry" Thanksgiving holiday dinner at Phoenix Rescue Mission on November 18 (Arizona Cardinals).
Baltimore Ravens: The Baltimore Ravens and the Lady Ravens Association celebrated Thanksgiving with our variety of activities in the Baltimore community. In all, 15 players participated (Baltimore Ravens).
Buffalo Bills: The Buffalo Bills served up a Thanksgiving dinner at the Northwest Buffalo Community Center on Tuesday night. Over 200 children and their families attended the 9th annual event (Buffalo Bills).
Carolina Panthers: The Carolina Panthers served 200 steak dinners to homeless men at the Uptown Shelter in Charlotte on Tuesday afternoon (Carolina Panthers).
Chicago Bulls: Chicago Bulls players Luol Deng, Tyrus Thomas and Aaron Gray shared Thanksgiving dinner with 843 visitors at a homeless shelter in Chicago earlier this month (Chicago Bulls).
Cincinnati Bengals: The Cincinnati Bengals held their annual canned food drive prior to the Philadelphia Eagles game on November 16. Fans donated 7,630 pounds of non-perishable and canned goods. In addition, Bengals fans gave $8,020 in cash donations to help feed the hungry in our community (Cincinnati Bengals).
Cleveland Cavaliers: The Cleveland Cavaliers, along with Feed the Children, provided 400 Cleveland children and families in need with boxes of food and personal care items on November 14 (Cleveland Cavaliers).
Dallas Cowboys: Dallas Cowboys made a visit to The Salvation Army homeless shelter on Tuesday and served an early Thanksgiving dinner. The players and some of their wives and coaches' wives passed out dinners to some 200 less fortunate people (Dallas Cowboys).
Dallas Mavericks: The Dallas Mavericks hosted the 12th annual Turkey Dunk Thanksgiving Party on Monday. The event featured a basketball clinic, question-answer session with all Mavs players and coaches, and a four-course meal (Dallas Mavericks).
Detroit Lions: Detroit Lions S Dwight Smith, a Detroit native, distributed turkeys, stuffing, gravy, dinner rolls, bacon, hot dogs, and Pepsi and Faygo products at Savon Foods Supermarket on November 25 (Detroit Lions).
Golden State Warriors: The Golden State Warriors hosted their eighth Annual Holiday Meal Serving in Oakland on November 19. Warriors players, staff members and the Warrior Girls were on hand to distribute pre-packaged meals that included all the fixings for a complete Thanksgiving feast to 300 families from various Bay Area shelters and nonprofit organizations (Golden State Warriors).
Houston Texans: The Lady Texans teamed with HEB to help raise money to feed families for the Thanksgiving holiday. The group presented a check for $5,697.00 after their first-ever Lady Texans Turkey Drive. The funds helped feed more than 350 Houston families that otherwise would not have had a meal this holiday season (Houston Texans).
Jacksonville Jaguars: This year's Operation Blessing, the Jacksonville Jaguars' annual food distribution program held the Tuesday before Thanksgiving, assisted more than 3,000 Eastside families who are in need during this holiday season (Jacksonville Jaguars).
Kansas City Chiefs: The Kansas City Chiefs continued their long-standing Thanksgiving outreach this time of year through eight seperate hunger-relief initiatives. One effort included Chiefs players and wives hosting the annual pot luck dinner for 60 families at the Ronald McDonald House (Kansas City Chiefs).
Los Angeles Clippers: Los Angeles Clippers G Baron Davis and the Rising Stars of America Foundation donated Thanksgiving Dinner to 75 families on Sunday, November 23 (Los Angeles Clippers).
Miami Dolphins: The Miami Dolphins contributed monetary donations to purchase more than 1,370 Thanksgiving meals to feed more than 14,000 underprivileged people in South Florida (Miami Dolphins).
Minnesota Vikings: Minnesota Vikings G Steve Hutchinson and his wife, Landyn, hosted an early Thanksgiving meal for young patients and their families last Tuesday at the University of Minnesota Children's Hospital, Fairview. It's the third such dinner the Hutchinsons have hosted (Minnesota Vikings).
New Jersey Nets: The New Jersy Nets served meals to more than 100 people in need at Montclair Citadel Salvation Army on November 17. The Nets also distributed food packages and frozen turkeys (John Shabe, Newark Star-Ledger, 11/18).
New Orleans Hornets: New Orleans Hornets G Chris Paul and his older brother C.J. teamed up with Rouses Supermarkets to donate $50 gift cards to a total of 100 local families that can be used to purchase Thanksgiving meals. The Pauls came up with the idea to donate gift cards to 50 families, which was matched by Rouses (New Orleans Hornets).
New Orleans Saints: New Orleans Saints RB Deuce McAllister and the Saintsations shared Thanksgiving by giving away complete turkey dinners to 100 families in the New Orleans area on Tuesday. McAllister and the Saintsations greeted 100 pre-selected families from four area non-profit organizations (New Orleans Saints).
New York Jets: The New York Jets Women's Organization visited The Community Soup Kitchen of Morristown, NJ, to donate and serve food as well as decorate the hall for the Thanksgiving season. The soup kitchen normally serves from 80 to 180 guests daily (New York Jets).
Oklahoma City Thunder: As part of the Oklahoma City Thunder's Holiday Assist Program, the team recently handed out Thanksgiving dinners to families. The program will reach thousands of Oklahoman children and families (Oklahoma Thunder).
Phoenix Coyotes: The Phoenix Coyoted participated in the Big Guy Turkey Drive at the Salvation Army headquarters in Phoenix on Thursday. The effort provided Thanksgiving dinners to people throughout the Valley (Phoenix Coyotes).
Pittsburgh Steelers: Pittsburgh Steelers WR Hines Ward teamed with the Salvation Army and opened up his South Side 86 restaurant to families from the Homeless Family Crisis Center and Homewood Brushton area that otherwise would have had meager meals this Thanksgiving (Pittsburgh Steelers).
Sacramento Kings: Sacramento Kings players Francisco Garcia and Bobby Brown visited kids at WIND Youth Services and served a full Thanksgiving meal on November 15 (Sacramento Kings).
San Francisco 49ers: The San Francisco 49ers in partnership with CityTeam Ministries, served Thanksgiving dinner for over 2,000 low-income citizens in San Jose on Tuesday. The players and volunteers worked in the distribution center and food kitchen to serve meals and hand out holiday food boxes and turkeys to the families who were looking for assistance (San Francisco 49ers).
San Jose Sharks: The San Jose Sharks joined with the Jr. Sharks to host the 2nd Annual Frozen Turkey Drive in conjunction with Second Harvest Food Bank. Since July of this year, Second Harvest Food Bank has experienced a 55% increase in food requests (San Jose Sharks).
Seattle Seahawks: Seattle Seahawks WR Nate Burleson hosted dozens of Seattle-area children from the Rotary Boys & Girls Club for his first annual Thanksgiving dinner. Burleson was joined by some of his Seahawks teammates (Seattle Seahawks).
St. Louis Rams: For the 14th year, the St. Louis Rams on Tuesday passed out turkeys at three different locations to help feed over 1,600 families in the St. Louis community (St. Louis Rams).
Tampa Bay Buccaneers: The Tampa Bay Buccaneers hosted its second-annual "Turkey Time with the O-Line" event last Tuesday, and about 600 families who filed through the parking lot of the Bucs' training facility in their cars to receive a Thanksgiving meal (Tampa Bay Buccaneers).
Washington Redskins: The Washington Redskins hosted its sixth annual "Harvest Feast" on Tuesday at FedExField, distributing Thanksgiving food baskets that included a whole turkey to Prince George's County resident in need (Washington Redskins).
Washington Wizards: The Washington Wizards held their 10th annual Turkey Drive at Heaven's Grocery Store in Northeast Washington, DC on November 20. Wives of the Washington Wizards gave out 400 turkeys and bags of food to help feed those in need this Thanksgiving (Washington Wizards).
The majority of this information was gathered from team Web sites. Please visit the Resources section for links to each team's community relations program.
Photo credit: Kansas City Chiefs