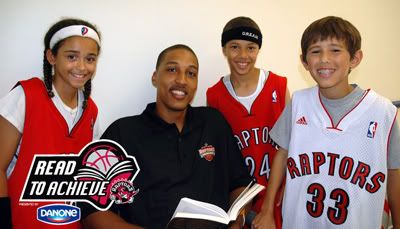 The Toronto Raptors recently played host to more than 13,000 kids for the first ever Raptors Read To Achieve Open Practice. Students and teachers from across the province enjoyed a morning of entertainment with the team.
The Read To Achieve program helps schools:
Develop students reading skills
Create an authentic purpose for reading
Reach all learners
Develop a love of reading for pleasure in students
Fulfill students' daily sustained reading requirements
The Toronto Raptors Read To Achieve program, now in its eighth year, had 50,000 students participating in its free literacy based activities during the 2007-08 season (Toronto Raptors).
Denver Nuggets: The entire Denver Nuggets team recently held its 3rd Annual Open Practice, hosting nearly 2,000 elementary and middle school students from Denver Public Schools. Nuggets F Carmelo Anthony got the event started by welcoming the students and talking about the importance of doing well in school. The kids cheered throughout the entire practice as the players went through their drills and scrimmage.
As an extra incentive, students received gift bags that included a Nuggets t-shirt, school folder with Nuggets schedule and two tickets to a Nuggets preseason game. The participants will also have an opportunity to do Nuggets-themed math, writing and geography worksheets online for a chance for their class to win a private Nuggets appearance during the season (Denver Nuggets).
Memphis Grizzlies: The Memphis Grizzlies hosted its Read to Achieve Tip-Off at a local elementary school this past Monday. Players Rudy Gay, O.J. Mayo, Marc Gasol and Hakim Warrick were on hand to stress the importance of reading and teach students that education and reading can be fun. Gay also helped dedicate a new Grizzlies Reading and Learning Center, which is the third such center that the Grizzlies have opened this year.
Meanwhile, the team held its Get Fit with the Grizzlies Tip-Off yesterday to promote physical fitness. The Get Fit Tip-Off marks the start of a four week challenge where fourth and fifth graders in area schools track what they eat and the amount of exercise that they get in order to live healthier lives (Memphis Grizzlies).
Photo credit: Toronto Raptors